This week, I am super excited to put together an exclusively female-fronted playlist. With some of the backwards-ass health/temperament conspiracy theories surrounding the current US presidential election, which essentially amounts to thinly veiled sexism, it got me thinking of all the insidiously subtle, tired old obstacles women face every day; pay inequality, occupational sex segregation, pregnancy discrimination, sexual violence and the list goes on and on and on…to be honest, as a male blogger, it's tough for me to sit here and write a post about feminist-related movements and try to not come across as disingenuous; or share my thoughts without making it sound like I am in any way a victim, expert, or otherwise in the matter. All I know is that, like many other aspects of life, women were/are forced to endure and surmount a lot of preconceptions to make a name for themselves in the rock music industry. Although punk has consistently provided an outlet and audience that gives voice to underrepresented groups, it's still a scene traditionally dominated by acts and fans consisting of young white males. So today, we celebrate the rowdy women of punk! Side thought: Angry Ovaries would be a great band name.
Web player link: https://play.spotify.com/user/agood1no/playlist/0mJA3H9Lmai1gAQGF5Xobg
The Distillers – Drain the Blood
What better way to open up this commemorative playlist than with the indefatigable Brody Dalle and her Distillers.
Originally from Australia, Brody formed The Distillers in 1998 in Los Angeles, recruiting the help of bassist Kim Chi, guitarist Rose Mazzola and drummer Mat Young. Influenced by both 80s hardcore and the 90s skate punk movement, The Distillers created a sound very much their own, raw, aggressive and melodic, while displaying a brazen energy and defiance. Drain the Blood comes off their third and final record, 2003's
Coral Fang
. Keep listening to the playlist for another chance to catch Dalle's addictive growly vocals!
Tsunami Bomb - Lemonade
Powered by the sweet lead vocals of Agent M, California skate/surf punk band Tsunami Bomb unleashes a torrent of poppy goodness in their track Lemonade, originally released on their 2001 EP The Invasion From Within! I remember going to see them decades and decades and decades ago (like 2004 maybe) open for Bouncing Souls and Strike Anywhere in DC's former notorious, scuzzy nightclub Nation, and I remember them practically stealing the show. Their hooky anthemic sing-along set combined with an unrelenting energy wowed everyone in the club. Side note – the spot where Nation existed is now the parking garage for the Washington Nationals, laaame.
X – Your Phone's Off the Hook, But You're Not
Next up we have the opening track from seminal rockabilly punk outfit X's debut album Los Angeles. Produced by ex-Doors keyboardist Ray Manzarek, this album quickly propelled X to national prominence after receiving rave critic reviews. Sharing songwriting duties, vocalist/poet Exene Cervanka and vocalist/bassist John Doe shaped a distinctive sound through their just ever so slightly-off harmonies. Noted for her contributions to the world of art, music and advancement of weird conspiracy theories, Exene Cervanka left a lasting mark. Interesting fun fact – she was temporarily married to pre-Aragorn Viggo Mortensen in the 80s and 90s!!
Hemlines – The Bear
Shout out to @karenish for suggesting we include Hemlines, an up and coming force in DC's rock scene, for this week's episode. Incorporating elements of garage rock and lo-fi punk, while effortlessly weaving from catchy 4-chord choruses to beautifully-toned guitar runs, Hemlines is sure to win over your earbuds with their All Your Homes EP. Go check them out! I'm fucking lovin' it.


Screaming Females – Ripe
Coming in hot now is the song Ripe, off thrashing indie punk rock stars Screaming Females' latest release,
Rose Mountain
. Born and bred in the garden state, Screaming Females have been around since founders Mike and Marrisa met in high school. Fuzzy, angry, and technically ON FLEEK, Ripe showcases all the features that have rocketed Screaming Females onto the national scene, earning them critical recognition and numerous spots on impressive tours.
They've kept busy too, recording
7 albums over the course of 9 years, including one engineered by infamous noise god Steve Albini. Bangs for days grrrl
Dance Hall Crashers – Lost Again
Alright, I think we need to turn it down a notch so we can catch our breath and regroup.
Hopefully the contagiously positive vibes of Lost Again by Bay Area ska punk band Dance Hall Crashers can do the trick. Originally formed by the legendary Tim Armstrong and Matt Freeman (of Operation Ivy and Rancid fame), some hasty lineup changes morphed DHC into the dual-women-fronted band that they remain to this day. Through a steady diet of gigging, gigging and gigging, they grew their following and became a national act. Lost Again comes off DHC's third studio album,
Honey I'm Homely!
, and reflected a move by the band to a faster and more pop-driven flare of ska punk.
Bikini Kill – Rebel Girl
Up next is Rebel Girl from Washington state punkers Bikini Kill, a group from the early 90s that is often cited as the pioneers of the riot grrrl movement. Produced as a single by Joan Jett and later featured on their first full-length studio album Pussy Whipped, Rebel Girl encompasses the thematic and stylistic components that defined Bikini Kill's essence. The riot grrrl movement is supremely significant, paving the way for future female-fronted acts and shining a light on important and often overlooked societal issues, from rape and domestic abuse to sexuality and female empowerment.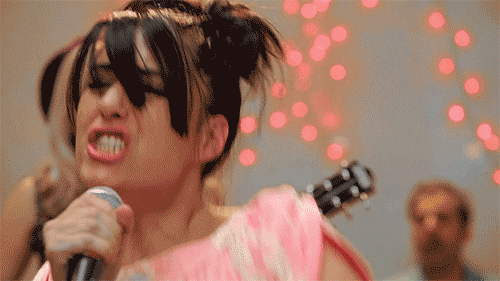 Fabulous Disaster – Final Stab
A later incarnation of the riot grrrl scene, and once labeled as "the best female punk band of all time" by NOFX frontman Fat Mike, is Fabulous Disaster.
Final Stab delivers a heartfelt punch, lacing beautiful melody lines with shouting protests and a thoughtful rhythm section arrangement. Although they disbanded in 2007, Fabulous Disaster left a large and storied legacy.
Retching Red – Battery Acid
I TOLD you I was gonna be featuring another Cinder Block band this week. A Lannister always pays his debt motherfucker (disclaimer – I am not team Lannister, definitely a Stark/Dany fan). This song, Battery Acid, comes off short-lived feminist hardcore band Retching Red. Sit back and enjoy as frontwoman Cinder Block unapologetically screams at your face through your speakers. This track is featured on Retching Red's first studio album, Get Your Red Wings, released by Rodent Popsicle Records in 2004.
Tacocat – I Love Seattle
I don't know if I love Seattle, only cos I've never been, but I do know I can get behind this track from (you guessed it) Seattle-based pop punk band Tacocat. Incorporating those familiar surf vibes reminiscent of acts like Best Coast and Wavves, Tacocat infuses their own style of sarcasm and humor to create a unique sound that is attracting a lot of attention. I Love Seattle is off their latest album, Lost Time, released in April of this year on Hardly Art Records.
Spinerette – Ghetto Love
YAAAS Brody Dalle. God, her voice, it's like…it's like if scratching your nails down a chalkboard was really pleasing to listen to. I don't know how else to describe it. It's beautiful and incredibly jarring all at once. Ghetto Love is a single from Brody's new outfit, Spinerette. It's catchy as hell, so you probably will have this song stuck in your head for a while.
Le Butcherettes – I'm Getting Sick of You
We close out this week's episode with Guadalajara-based garage punk band, Le Butcherettes, and their hate song/anthem I'm Getting Sick of You. My buddy Whitney, who's currently living in Mexico City, showed me Le Butcherettes recently and I am 100% on board with this shit. Founded by the artistically gifted Teri Gender Bender (hobbies include: screaming her lungs out, ripping out her enemy's hearts, and guitar solos) at the tender age of 17, Le Butcherettes have gradually become a staple of Mexico's rock scene, while continuing to build out a strong international cult following. If you're reading this blog in Europe, look them up for their upcoming European tour!
Alright, GRRRLZ and boys, that's it for this week. I hope you all enjoyed the tunes, and please continue showing support as we shine a light on traditionally under-served music markets. Follow along on facebook.com/wednesdayswithandrew and I'll smell ya next week!