Happy Pakistani Air Force Day! I hope you enjoy this week's tunes; listen to the playlist below and feel free to read along as you stumble through it. Shout out to my bro, Evan MCGEE, for pointing out that 3 out of my 4 last posts contained songs off soundtracks from Guy Ritchie movies; "I Wanna be your Dog" and "Police and Thieves" from Lock Stock, and "Ghost Town" from Snatch! To keep the trend, I threw in a lil' last-minute bonus track, an obvious easter egg of sorts – medium ups to you if you recognize which one!
Web player link – https://play.spotify.com/user/agood1no/playlist/2mkCaTGinAmM9hpOnS31eY
Ramones – Warthog
We kick off this week with a track from ubiquitous 70s icons the Ramones. Forged on the gritty suburban streets of Queens, the Ramones are arguably the band that spearheaded the punk movement in the United States. Warthog is off one of their later releases, Too Tough to Die, but exemplifies a return to their roots, less glazey and more teeth. Sad fact of the week – all 4 original members, Joey, Johnny, Tommy and Dee Dee, have passed away.
Deviates – Come With Me
Come with Me is the opening song off the Deviates' much-anticipated second album, Time Is The Distance. Melodic hardhitters and part of the early 90s punk revival on the west coast, the Deviates preferred to focus on heavy touring and honing their live sound, and so they took 7 years between their first studio release and this one. Unfortunately, the band will break up soon after the release of Time Is The Distance, and we haven't been graced with their youthful and introspective sound since.
Catch 22 – Keasbey Nights
The title track from their debut album, Keasbey Nights, incorporates all the distinctive sounds that coalesce to make Catch 22 the unique ska band it is. From the speedy tenor parts to the chorus anthems to a rocksteady rhythm section, Keasbey Nights shows us why these Jersey boys enjoy such widespread popularity. Although band leader and founder Tomas Kalnoky bailed to start a new outfit, Streetlight Manifesto, Catch 22 still plays shows here and there.
Misfits – Horror Business
Speaking of New Jersey…up next we have the crown prince of horror punk, Misfits. Before lead ghoul Glenn Danzig left the group to pursue a Freudian solo career, he recorded a number of singles, EPs and full lengths with Misfits. Horror Business is their third single, released in 1979 off Danzig's label Plan 9 Records. This track highlights the trademark sound of Misfits, a driving, melodic pop force interlaced with themes and imagery from horror movies.
Oh, and who can forget the mighty Danzig's appearance in Aqua Teen Hunger Force??
Demond Dekker & the Aces – 007 (Shanty Town)
Now we head to the Caribbean for some early ska from widely influential Jamaican artist Desmond Dekker. 007 (Shanty Town) was the title track and first single off Desmond Dekker & the Aces' 1967 debut studio album. The song makes allusions to spy and cat-and-mouse films, like James Bond and Ocean's 11, which was a very popular pop culture phenomenon at the time in the rude boy scene. This song went on to be very influential in later reggae and ska circles, and was consistently covered by big acts, including versions by The Specials and Musical Youth.
Frenzal Rhomb – Let's Drink a Beer
Since we're globe hopping, may as well take a trip down under to hang with our Aussie friends, Frenzal Rhomb, and their mouth-watering track Let's Drink a Beer. This song is off their commercially successful 1999 album
A Man's Not a Camel
, and showcases their frenzied and melodic, lead guitar-driven flavor of music
.
By the way, what the hell is a Frenzal Rhomb? Well apparently the name is derived from a Fresnel rhomb. What the hell is a Fresnal rhomb? I'd explain it but physics isn't my forte – read about it
here
.
Scissor Sisters – Tits on the Radio
Next up is a track from fuzzy glam rock /nu-disco pop sensations, Scissor Sisters.
Fronted by lead singers Ana Matronic and Jake Shears, Scissor Sisters are well known for their outlandish live performances and quickly gained a cult following, first in Europe before they got big in their native United States.
Tits on the Radio is a track off their debut studio album, and some have speculated that it may serve as a vague homage to the Bugles' Video Killed the Radio Star.
Slick Shoes – Lucky
Lucky is off pop punk Slick Shoes' third album, Wake Up Screaming, released under the Tooth & Nail banner. They gained a following by touring extensively with other bands on the Christian label, most notably MxPx. The band name is an homage to cult movie The Goonies; 'slick shoes' is one of the character Data's many homemade gadgets.
Circle Jerks – Wild in the Streets
Possibly the best name for a band ever, and our second sexual band name so far in this week's playlist, Circle Jerks were a huge part of the late 70s/80s hardcore scene.
Formed in Los Angeles by former members of Black Flag and Red Kross, Circle Jerks embodied the energy and anarchistic counter culture that was becoming increasingly popular, especially in skate and surf scenes. Wild in the Streets is their cover of Garland Jeffreys' original tune, and is the opening track and namesake for Circle Jerks' sophomore studio album.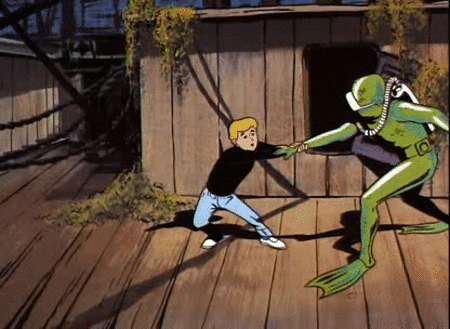 Pennywise - Bro Hymn
We end today's playlist with the super catchy anthem Bro Hymn, off of Pennywise's fourth full-length album Full Circle. Named after the monster clown from Stephen King's It, Pennywise is (and continues to be) a leading force of the 90s punk revival sound, while guitarist Fletcher Dragge is consistently recognized as one of the great guitarists in the scene. Bro Hymn was originally released on Pennywise's first album, as a tribute to bassist Jason Thirsk's friends. After Thirsk took his own life in 1996, the band re-recorded the song (this version) as a dedication to him. "Jason Matthew Thirsk, this one's for you!" Random knowledge knugget - This song is (or has been) the 'goal song' for at least 3 different NHL teams.
Alrighty folks, that's a wrap. Hope you enjoyed every last minute of it, and please share, follow, like, and all that.