Good morning web slobs, and happy International Civil Aviation Day! I hope you're geared up for another slippery episode of Wednesdays With Andrew. I was tempted to do a holiday special, Michael Bublé-only playlist, but decided instead to stick to the regular format #imlovinit This week we have a diverse bunch of tunes, geographically speaking of course, stretching from the beaches of Orange County to the natural pools of Austin, TX all the way up to the frozen tundras of Finland. Strap in and enjoy, kiddos.
Annnd the web player link - https://play.spotify.com/user/agood1no/playlist/3CkQrqoVnmw8PFmRMtcr3t
The Smiths – How Soon is Now?
We kick off this week's shitstorm with The Smiths' curiously airy hit How Soon is Now?. This track was originally a B-side for their 1984 single 'William, It Was Really Nothing' before earning it's A-side spot on their second album Meat is Murder. Written by lead weirdo/vocalist Morrissey and guitarist Johnny Marr, How Soon is Now? stood apart from the other material on their first 2 records, showcasing a slower and more velvety sound than their usual up-tempo, synth-driven dance pop.
The Impossibles – Always Have, Always Will
The Impossibles always have and always will be one of my favorite (ska-heavy) rock bands. Hailing from Austin, TX these exceptionally talented nerds formed the band in 1994 when they were still 13, 14 years old. Always Have, Always Will is a heavy-hitting and pop-infused rock anthem superimposed over a calming ska backdrop.
The Impossibles were one of the very first bands to work with Fueled by Ramen, when the label was still based in Florida and looong before they were signing more household name artists like 21 Pilots, Paramore, Panic! At the Disco, etc.
The Unband – Pink Slip
License and registration…chicken fucker! I'm sure many of you recognize Pink Slip, a track oozing with insolence and angst best expressed through rock n roll, from Broken Lizard's cult classic Super Troopers. Pink Slip was from hard rock heroes The Unband, and is off their first major label release, Retarder, which dropped in 2000. I think the Las Vegas Weekly described that album best: "Every number is a testament to the might and stamina of the power chord".
Here's to hoping Broken Lizard actually gets their shit together and releases Super Troopers 2 next year!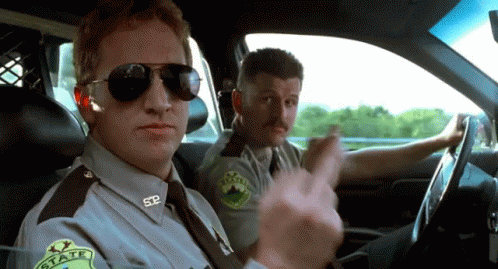 Flogging Molly – Drunken Lullabies
Up next we have a mandatory, token Celtic bar-brawl tune, courtesy of our friends Flogging Molly. But don't be deceived by the light-hearted and boisterous sounds of Drunken Lullabies; this song by the 7-piece Irish-American group is a poignant and daring challenge to the problems we see in modern society. Drunken Lullabies is the title track of Flogging Molly's sophomore album, released in 2002 off SideOneDummy Records. Sláinte mhaith!
Assorted Jelly Beans – 8th Grade Nerd
8th Grade Nerd is a frenetic tune from ska punk band Assorted Jelly Beans. Born in the arid expanses of Riverside, CA in the mid 90s, the group first caught the attention of Joe Escalante and Warren Fitzgerald of the Vandals, who were so impressed that they decided to start a label just to help the band record and release their first, self-titled album. And so it goes that Assorted Jelly Beans were so damn good that they are credited for the creation of Kung Fu Records. Although the Beans haven't been too active recently, they did play this year's Amnesia Rockfest in Canada.
Social Distortion – Don't Drag Me Down
Don't Drag Me Down is a melodic powerhouse of a song from long-standing staple of the punk rock scene, Social Distortion. Formed in 1978 in Orange County by childhood buddies Mike Ness and Dennis Danell, Social Distortion has become synonymous with chugging power chords, rambling guitar solos and that distinctive low-whine vocal snarl. Don't Drag Me Down is off their 1996 album White Light, White Heat, White Trash, the last album they released before the tragic and untimely death of Danell from a brain aneurysm. Despite some hiatuses and lineup changes, Social Distortion is still playing shows and writing new material after an impressive 38 years…here's to 38 more!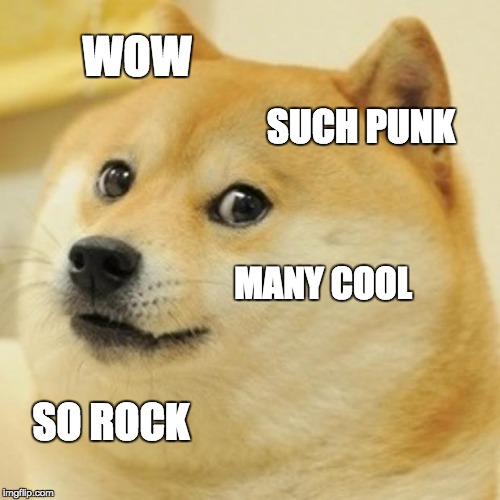 PÄÄ Kii – Nyt skipataan kahvit
Next up we got some rowdy punk rock from Finnish stompers PÄÄ Kii. I know very little about this band, but here are a few knowledge knuggets I was able to dig up:
1.
PÄÄ Kii is Finnish for 'Shut up'
2.
This song is 1minute55seconds of pure awesome rock n roll
3.
The song may or may not have something to do with coffee
Iron Chic – Time Keeps on Slipping into the (Cosmic) Future
Time Keeps on Slipping into the (Cosmic) Future…is a really long name for a song. It is also the second track from Long Island punk outfit Iron Chic's first full length
, Not Like This
, released in 2010. Like guitarist Phil Douglas' previous band, Latterman, Iron Chic favors a melodic brand of fast-paced punk, punctuated by shout-along anthem choruses. Iron Chic recently organized and played a Brooklyn festival in honor of their fallen friend and guitarist, 'Wild Dad' Rob McAllister, who passed away almost a year ago. You can donate to the fund that was set up to help support the family he left behind
here
.
Dicks – The Dicks Hate the Police
This is a rowdy number from a rowdy band. The Dicks Hate the Police was the debut single from the guys, self-released in 1980. Our second Austin, TX band of this week's playlist, the Dicks were an early pioneer in the hardcore scene and are noted for their aggressive sounds and unrelenting socialist and equalitarian message, which often attracted controversy in 80s Reagan America. Vocalist Gary Floyd was one of the first openly gay musicians in the hardcore scene, and later Dicks songs would focus heavily on issues like sexual identity and gay rights. Seattle grunge band Mudhoney would later go on to cover this track, and soon added it to their standard live show repertoire.
Alkaline Trio – For Your Lungs Only
For Your Lungs Only is a catchy track from Chicago 3-piece Alkaline Trio, off their 1998 EP of the same name. This song would also later be included in their compilation album released in 2000 through Asian Man Records. Alkaline Trio came to prominence in the early part of the new millennium, building their sound around hook-driven guitars, driving rhythms, soulfully gruff singing and dark thematic content. For the last year, vocalist/guitarist Matt Skiba has also been lending his talents to Blink-182 after the departure of founding member Tom DeLonge.
No Doubt – Oi to the World

Since December is upon us, we'll end the playlist with a festive tune that will help us get into the holiday spirit. Oi to the World is No Doubt's skankin' cover of the Vandals' original tune, part of their 1996 Christmas jubilee album. This cover was part of Everything in Time, a smorgasborg of No Doubt B-sides and otherwise previously un-releasable songs. Oi to the world, ya heard?


OK, that's it internet ninjas. Hope you enjoyed the music, and keep coming back every Wednesday for more. Keep in touch through facebook, email, whatever. As always, I am down for requests and tips on up and coming artists. PEACE