Happy mid week, people, and welcome to the latest installment of Wednesdays With Andrew, your weekly overdose of punk (and punkish!) rock.
I decided to do something a bit different, but not unheard of here.
While I don't have my weekly podcast/online radio offering for your rabid ears today, I have not completely abandoned you.
The month of June happened to feature a whole lot of really awesome new music being released by some pretty fucking old punk rock acts. I have taken the time to listen to ALL of it for you, and am sharing my thoughts on a few of them below...enjoy....
Firstly, Good Riddance...last week this veteran, Santa Cruz-based melodic hardcore foursome shared a new single, 'Our Great Divide', in anticipation of the planned release of their Thoughts and Prayers LP later this year. And GOOD GOD, vocalist Russ Rankin has still got it. He may be 51, but his pipes have not let off the gas one fucking bit. With a melody to make Tony Sly proud, Russ charges forward at blistering speeds, supported by lead guitarist Luke Pabich's style of punchy, piercing guitar hooks, and a rhythm section that imbues an unstoppable intensity throughout the entire track. To me, 'Our Great Divide' is a powerful and catchy anthem that stays true to GR's sound and spirit over the years. And with an album name like Thoughts and Prayers, you know that they still have a lot to say. Can't.fucking.wait. For my European friends, go see Good Riddance on tour this summer!
A few hundred miles down the Golden Coast, another punk rock staple also brewed up a new tune. After an 8-year drought of new material, Long Beach's True Sounds of Liberty, colloquially known as T.S.O.L., exploded back onto the scene with 2017's The Trigger Complex. Well, Jack Grisham & friends are back with a satirical cover of the American classic 'What a Wonderful World.' Spoiler alert: Jack doesn't really think so. Although the single, entitled 'Is This a Wonderful World,' may mark a brief departure in musical style for the band, the no-holds-barred political messaging is certainly familiar for any fan of T.S.O.L.
Now, June 3rd was a big day for any diehard Pixies fan. Sometime early during that humid, buggy day, Boston's most eccentric garage rock band announced a new album,
Beneath the Eyrie,
slated to drop this September, and
shared their new single '
On Graveyard Hill
.'
They also announced a podcast, 'It's a Pixies Podcast' which will kick off in June and will focus on the creative process of writing and recording Beneath the Eyrie.
When a band has been around as long as the Pixies, you start to worry whether they'll lose their edge, or 'take a different direction'....well, although Kim Deal's presence is still sorely missed, I can safely say that On Graveyard Hill sounds A LOT like the Pixies should.
Last but certainly not least, Iggy Pop is getting into some new trouble. Although this isn't technically new music, the godfather of punk released a new music video for 'Run Like a Villain' as part of the reissue of his 1982 album Zombie Birdhouse. The reissue promises to make a crisper, cleaner listening experience for an album that showcased Iggy at his strangest and most poetic, against a backdrop of blaring synth and pseudo Afropop beats.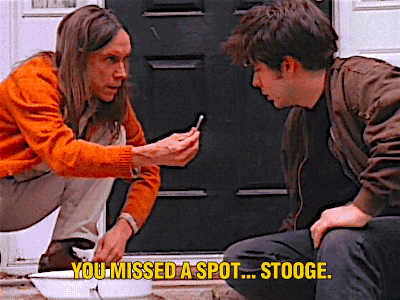 I've linked to all the relevant media above, but for those who want a nice and tidy playlist...here you go!
Never stop stopping, you old punk rock rascals. I'll catch ya all next week