Happy Wednesday you goobers; hope you're good and ready to inject the latest fix of punk (and punkish!) rock straight into your earholes.
In stark contrast to last week's stroll through (Andrew's) memory lane, today's episode features lots of new tunes, including some bangers from Snuff, Mean Jeans and Agnostic Front, while still showcasing some timeless gems from bands like Deviates, Jay Reatard, Dag Nasty and more.
So, put on your favorite knee high socks, crack open a fucking schlitz
and let's get this party started:
Liner notes:
Here's the Spotify link ya dweebs
Tracklist
1

Basement Animal

by

Mean Jeans

2

We grew up

by

Deviates

3

Spray painted walls

by

Agnostic Front

4

Waiting for something

by

Jay Reatard

5

Wahoo

by

Meatbodies

6

Kings of the spanish oi scene

by

Snuff

7

Safe

by

Dag Nasty

8

Strong references

by

Drug Church

9

Turn it off

by

Culture Abuse

10

Truth hurts

by

Lizzo
Lots of new music on today's playlist, so make sure to give all the below a "spirl":
Mean Jeans - Gigantic Sike
Snuff - There's a lot of it about
Agnostic Front! - Get Loud! (to be released in November)
Go be friends with Drug Church cos they
make awesome, riffy, grungey, fun, magical music...oh and check to
see if they're stopping near you on their upcoming tour w/ Thrice!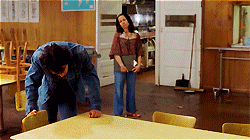 OH and lastly, if you're local to DC, make sure to swing by Rock N Roll Hotel on October 1 to get your head blown off by Meatbodies and Psychedelic Porn Crumpets!
ALRIGHT, I'M OUT, NAMASTE MOTHERFUCKERS