Yo yo yo yo yo yo yo, and happy Wednesday to you all; can you believe that 116 years ago to this day, Max Planck discovered the law of black-body radiation?? (no clue what that is, but sounds racist). Let's get this playlist party started. This week we have some phenomenal tunes, ranging from Black Flag to Gogol Bordello to Youth Brigade and more! #wwa #mcnuggets #youregonnadieclown

And the web player link – https://play.spotify.com/user/agood1no/playlist/3EzUSFabAMssDWVwNuS0NA


Black Flag – Nervous Breakdown
This week we start with Nervous Breakdown, which is the Side A of seminal hardcore band Black Flag's self-financed debut EP. Formed in 1976 in Hermosa Beach, CA by guitarist/songwriter Greg Ginn, Black Flag was an early pioneer of hardcore punk and post-hardcore sounds, as well as DIY production/distribution. Blending the simplistic 4-chord song structure made popular by the Ramones, with discordant guitars, heavy metal influences and blaring vocals, Black Flag left a lasting mark on the scene through the decades. The band's thematic focus around social isolation and anti-authoritarianism was cemented even further with the addition of multi-talented weirdo Henry Rollins in 1981. P.S. – I hear Rollins' latest movie, He Never Died, is real fucking good. Need to check that out.
Pulley - Barf
Up next is SoCal skater punks Pulley and their appetizingly hooky tune Barf, off their debut album.
Pulley was formed after vocalist Scott Radinsky's time with his old band, Ten Foot Pole, came to an end. Creating a signature sound heavily rooted in melodic skate punk and relying on heavy-hitting, fast rhythms, Pulley quickly became one of the most prominent punk rock acts of the 90s. Fun fact – not only is Scott Radinsky a fulltime and decorated punk vocalist and skate park owner, he also had an 11-year career in major league baseball as a relief pitcher. Talk about making the rest of us look bad.
Yeah Yeah Yeahs – Y Control
Karen O and her Yeah Yeah Yeahs have been touring, recording and generally kicking ass since 2000. With a home base in New York City, the band has been widely praised across multiple critical outlets. Y Control is off their debut album
Fever to Tell
, released in 2003 through Interscope. The album received numerous awards, including a Grammy nomination, and was named "5
th
best album of the decade" by
NME
.
Y Control is a call to action to fight back against male emotional control, and features Yeah Yeah Yeahs' trademark indie/rock n roll sound. I'm not generally a big fan of music videos – but the one for this song is pretty cool. Creepy children, dog corpse, it gets real weird. Check it out.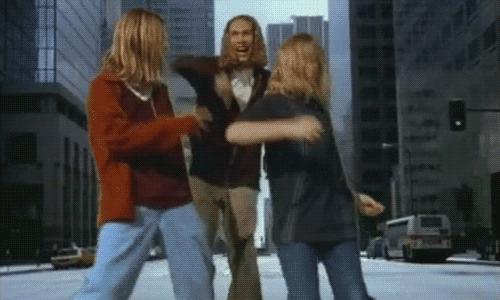 Youth Brigade – Spies for Life
Formed in 1980 in Los Angeles by 3 brothers (Mark, Adam and Shawn Stern), Youth Brigade IS the original Hanson. The band distinguished itself early on through Shawn's distinctive vocal growl, their satirical take on current affairs and unapologetic commitment to writing aggressive and pop-driven youth anthems. Spies for life is off the 1996 To Sell the Truth, which, like all their other albums, was released through their own label BYO Records.
The Meteors – Psycho for Your Love
Hmm this might be the first time I have included a psychobilly song on WWA; a gross negligence given the amazing sounds we get from this scene. Hailing from London, The Meteors are widely credited for defining the music style of the psychobilly subgenre, which fuses roots rhythm n blues, rock and roll and punk rock, and often incorporating b-rate horror thematic elements.
The Meteors have been frantically releasing music since 1980, with 25 albums and countless singles under their belt. Psycho for Your Love originally appeared on their debut vinyl,
In Heaven
, released in 1981 on Lost Soul Records.
98 Mute – Slow Motion Riot
Slow Motion Riot is probably hardcore band 98 Mute's most recognizable song. With chorus chants led by scratchy lead vocals (provided by Pat Ivie), a cohesive guitar and bass backbone, and a long coda ending with dueling guitar licks, this song offers an appropriate cross-section of 98 Mute's musical style. Produced and mixed by friend of the band Fletcher Dragge (of Pennywise/guitar god fame), Slow Motion Riot was released in 2000 through Epitaph, on a full-length album of the same name. 98 Mute broke up in 2002, but they came to their senses and reunited, at least for a couple shows, earlier this year. Let's hope they keep playing…
Gogol Bordello – American Wedding
American Wedding acts as a sad reflection of our culture's weaksauce (people still say that?) excuse for what is supposed to be a ridiculously celebratory event, as told by the precocious and rowdy gypsies of Gogol Bordello. Led by the un-unflappable Ukrainian-born Eugene Hütz, Gogol Bordello has become infamous for their over-the-top stage antics and constant touring, paying proper tribute to the traveling troubadours that came before them. Musically, Gogol Bordello has been credited for successfully incorporating gypsy musical styles and inclusion of non-conventional rock instruments (like accordion and violin) into mainstream rock. Time for fun lyrics puzzle/current affairs game! Can you catch the reference to Donald Trump?! Hint: this should be easy…he says "Donald Trump"
Gogol Bordello – Wonderlust King
I love Gogol Bordello, so you'll be hearing a lot of songs from these guys on this blog…like again, right now. Wonderlust King comes from the same album as American Wedding, their 2007 release
Super Taranta!
off the SideOneDummy label.
Насолоджуватися!
Captain Ortega – Hong Kong Dollar
Drawing as much from stoner and hard rock influences à la Motörhead and Queens of the Stone Age, as from punk forbearers like Descendents and Naked Raygun, Dutch outfit Captain Ortega is paving new paths in the punk rock scene. Their sound is firmly centered around blistering guitar-driven hooks, anger-laced melodies and feel-good communal call and responses. Hong Kong Dollar is off their latest EP,
1634,
released in August of this year. The whole EP is a real enjoyable listen. I give it a 3 thumbs up with a dope-ass rating of 97%. You can check it out in its entirety here:
http://captainortega.bandcamp.com/album/1634
Blue Meanies – Acceleration 5000


Better strap in for this track from skacore group Blue Meanies. Acceleration 5000 hits you with blazing speed and jarring rhythms and arrangements, backed by a cacophony of string and horn sounds. This song is off their third album Kiss Your Ass Goodbye!, originally released in 1995 and then re-released in '99 through Asian Man Records.


Destruction Unit – Salvation
We end the week's playlist on a redemptive note, closing out with this track from Arizona's Destruction Unit. Combining elements of 80s hardcore and doom metal, with acid-fueled psychedelic overtones, Salvation creates an inescapable wall of sound that capitulates to a furiously dredge-y breakdown. You'll find Salvation and some other equally intense tunes on Destruction Unit's long-awaited latest release, 2015's Negative Feedback Resistor. Let's Make America Doom Again.
Alright donuts, that's it for this week. Please continue to tune in and share with friends who may (or probably may not) like the playlists. Quick note – I will be traveling next week in the beautiful and spooky American Northeast, but rest assured that I will still post a playlist (sans write-ups) – it will likely be posted later in the evening on Wednesday.